04 Feb

Love is in the Air!

February is the month of love…and since love is the theme of the month, I wanted to take a quick moment to say how much I LOVE taking care of my clients.

2020 was a tough year in business (thank you Covid!), but I have been lucky enough to connect and work with so many amazing people. I enjoy having the opportunity to help my clients have less stress and more balance in their lives. By delegating some of their to-do's, they have more time to spend doing the things that bring them joy with the people they love.

Do you have a loved one you want to spoil this Valentine's Day? Here are a few ideas that your special someone may enjoy.

Sweet treats never go amiss, these great local spots have some delicious Valentine treats.

Isabelle's Brien's French Pastry Café – If you didn't get the chance to try their Holiday Yule Log, you're in luck. Their Valentine "Love Log" is available in Chocolate Ganache or Raspberry Jam flavor and the perfect size for two! (pre-order available). Visit their Encinitas store for more one of a kind sweet gifts that you and your special someone will love.

Broad Street Dough Co – If you haven't checked out this new store in The Lumberyard in downtown Encinitas, I highly recommend it!  Try their fresh hot donuts to start off a day of love! They have a wide array of options including vegan/gluten free doughnut varieties  (pre-order available).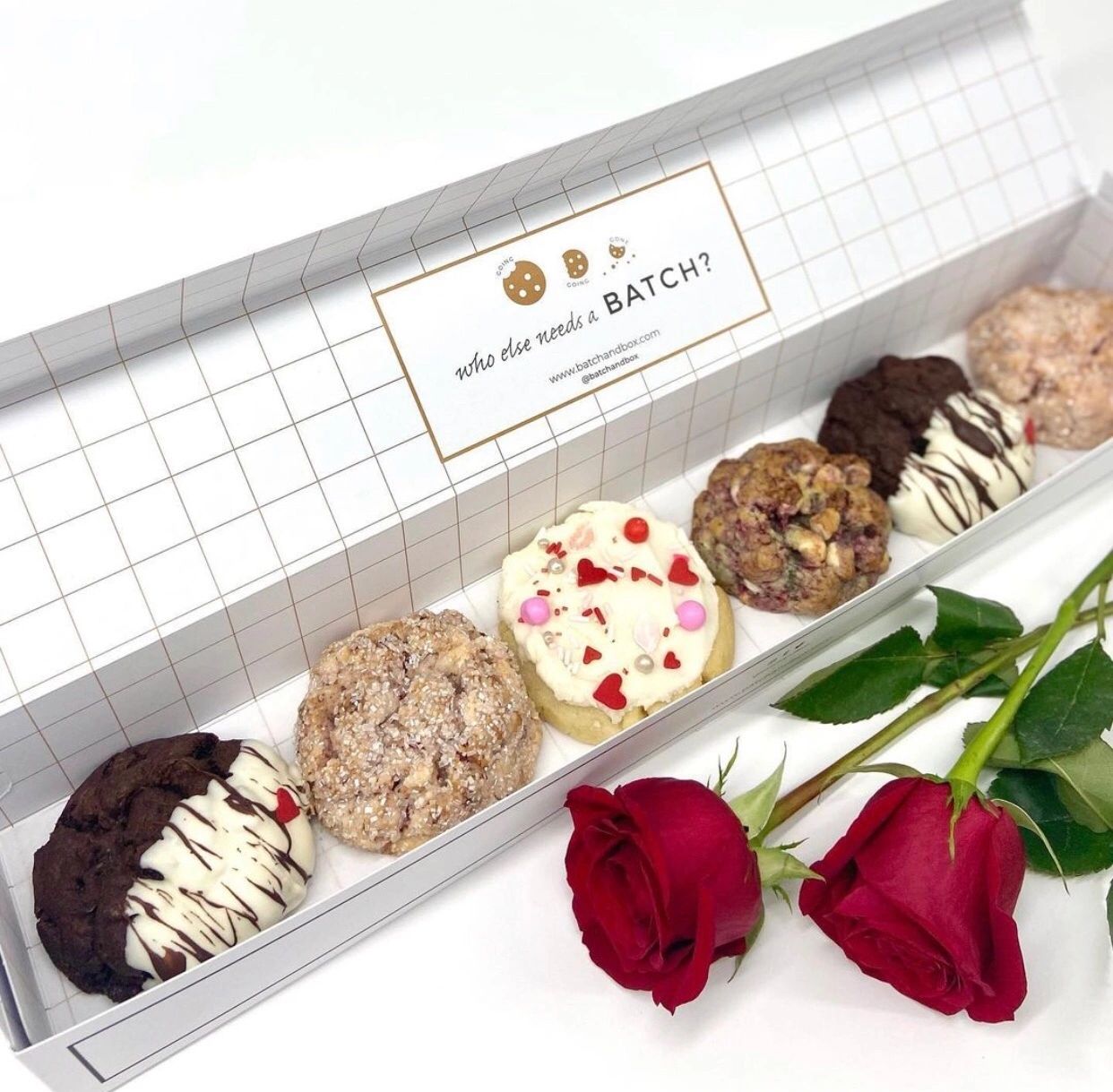 Batch and Box Cookies  – order online or visit their new store at Del Mar Highlands. Their gourmet special edition Valentine themed cookies look amazing and are made for sharing!  A box of 6 is $18, pre-order and shipping available.
FYI – they also do cookie tastings!
For a romantic, and sustainable micro-retreat with your love, check out Twelve Senses Bed & Breakfast Hotel in Encinitas. They have four rooms inspired by the natural elements: Fire, Water, Earth and Air. Get away and enjoy complete peace and relaxation with one of their packages that include private yoga, massage, pedicures, reiki or alfresco dinner for two prepared by your very own chef.
How about a day at the beach prepared for you without having to lift a finger? Doesn't that sound wonderful? Beach Genie, will set up your perfect luxury beach day, including additions such as a fire ring for s'mores, beach games and fresh lunch or beverage delivery. What's more romantic than sharing a sunset on the beach with your love?
Finally, if you have someone you love and adore who you want to see living a less stressful life, perhaps a friend or close colleague who is overwhelmed, I would love to talk to them. Our services may be just what they need to create more time for doing what they love in their life. Let's talk!