31 May

Summer Organization: 5 Tips to Start the Season Right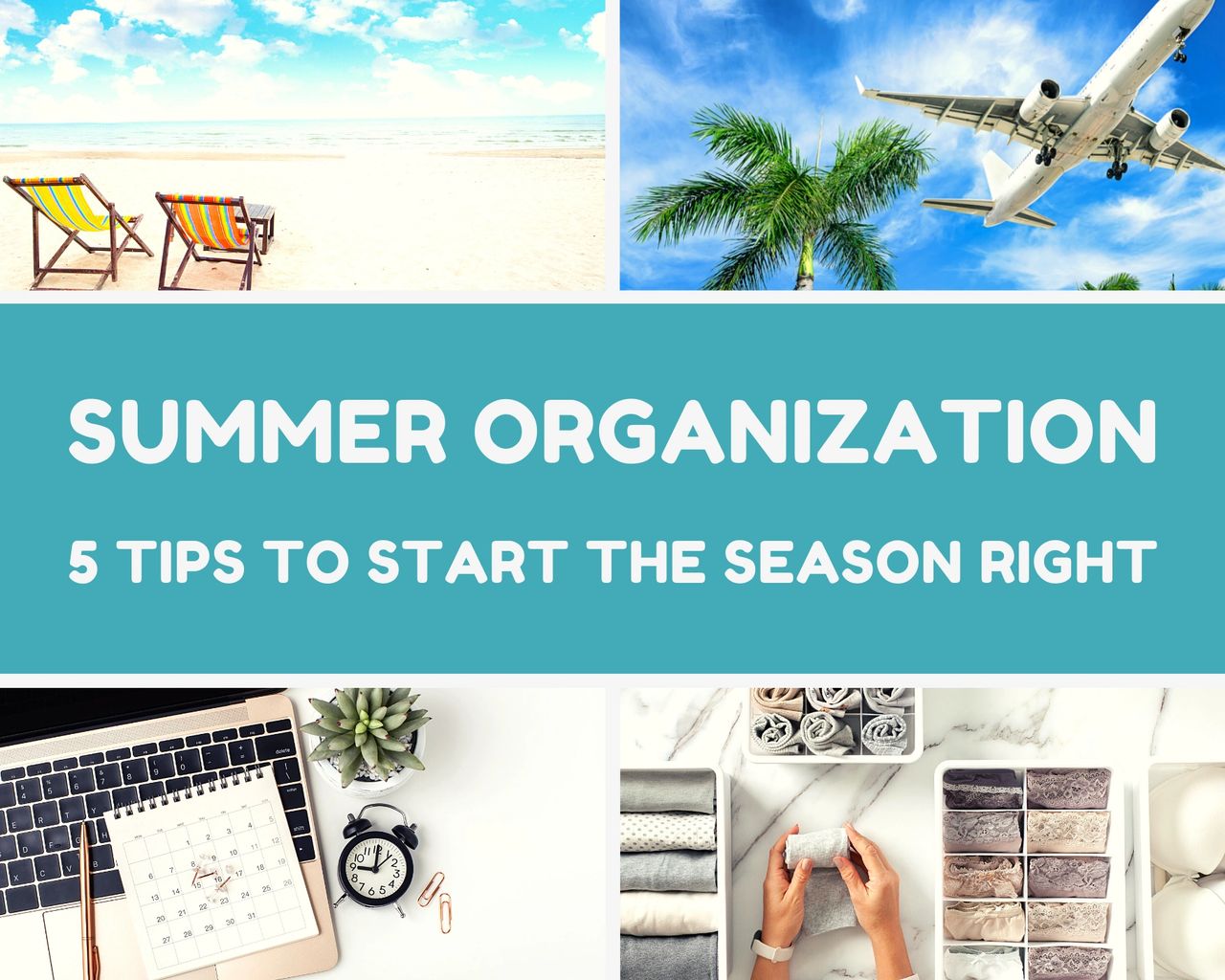 How would you like to start the summer feeling organized and on top of things? We might be in the thick of "May Gray" here in San Diego, but summer is just around the corner. Instead of scrambling to get your ducks in a row, you can feel relaxed and ready!
Here are some simple summer organization tips to help you kick off the season without any stress.
1 | Get your pool/beach equipment organized.
There's nothing like a spontaneous beach day to make it feel like summer, but it's a drag when you realize you're out of sunscreen and your beach chairs are on their last legs. Take some time to go through your supplies and equipment to see what needs replacing. Now is the ideal time to buy new outdoor equipment like beach chairs and umbrellas.
Choose a sturdy bag for the beach/pool where you can keep all the basics stocked and ready to go. Keep it stored near your chairs, umbrella, and blankets. You won't be scrambling to find a pair of goggles or a beach blanket if they're always stored in the same spot.
2 | Spruce up your outdoor spaces.
Warm summer nights are perfect for outdoor get-togethers so get ahead by cleaning up your outdoor spaces now. Wipe down or wash chairs and cushions. Give the bbq some TLC and make sure the gas tank is full. You could even add some string lights or a new outdoor rug.
Make sure you have supplies ready for entertaining. Have a designated spot to store extra utensils, glassware, napkins, etc. to use when you host.
3 | Set up a family calendar.
Keeping track of everyone's schedules can be a challenge during summer. Set up a family calendar that shows all the summer camps, activities, appointments, and vacations and post it where everyone in the family can see it.
Set up an identical digital calendar that adults and older kids can access on the phone, so you don't have to worry about double-booking. Bonus: you won't get as many questions from your family because everyone can see if there's already something on the calendar!
4 | Go through summer clothes.
Now is a good time to make sure you have summer clothes ready and available in the right sizes, especially if you have kids who've grown since last year. Swap out warmer clothes for summer options in your primary closets and dressers. The warmer clothes can still be accessible but don't need to take up prime storage.
Take some time to go through drawers and remove items that no longer fit, are stained, or just don't get used. Instead of hunting for a swimsuit in an overstuffed drawer when it's time to go to the pool, you'll know exactly where to find what you need.
5 | Plan ahead for vacations.
If you'll be taking a trip this summer, don't leave arrangements for house or pet sitters until the last minute. Save yourself the stress by booking early, especially if you need someone to stay at your house. Make sure you have transportation to the airport set up in advance and check that you have enough luggage.
Need Help??
The summer can be a lot easier with some simple organization ahead of time. If the thought of adding these tasks to your plate feels overwhelming, let North County Concierge help! Not only can we help with household organization, but we can handle errands and watch over your home while you travel. Take a peek at a full list of our services HERE.